Vegan pancakes for one – Lazy Cat Kitchen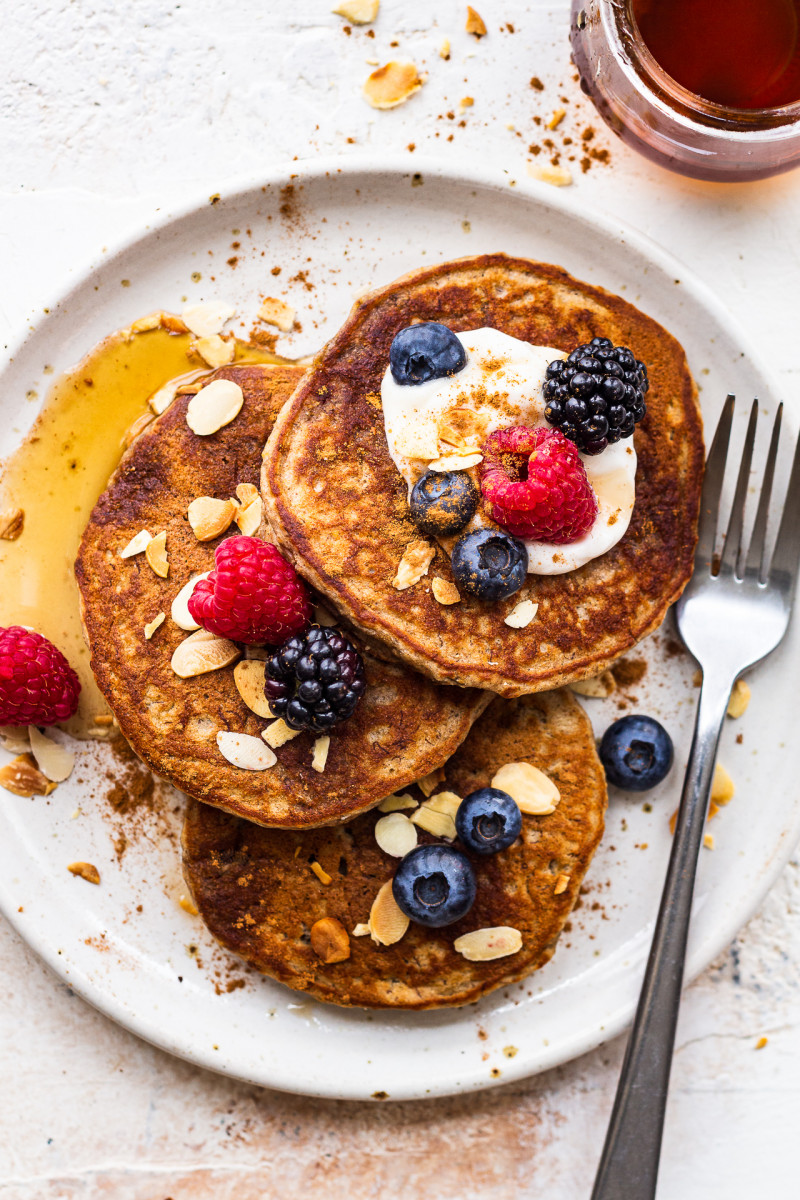 We are bang in the middle of another heatwave here this week so forgive me but I am not massively drawn to cooking or baking at all. We've been living on the same lunch bowl – with minor alternations – for the past week (because I don't feel energised enough to be creative) and drinking prolific amount of Greek-inspired iced coffee to keep ourselves awake in the heat of the day.
So instead of coming up with a brand new recipe, today I've decided to share something really simple that I tend to have for breakfast when the mood strikes me – pancakes. And because mine and Duncan's morning routine is very different I tend to make a single portion, just for myself. It's my special treat and because I realise that there are many people living on their own or even those who don't may not necessarily share the same breakfast preferences as the rest of their household, I thought it's probably worth publishing this vegan pancakes for one recipe.
The recipe is very easy and relies on a handful of staples. I have tried making these pancakes with a range of flours, but my preferred combo is a mix of buckwheat and oat flour, which renders them naturally gluten-free too (make sure your flours are gluten-free certified if you are making them for someone suffering from gluten-intolerance).
MORE ABOUT THE INGREDIENTS
RIPE BANANA – mashed banana provides moisture, a bit of natural sweetness and acts as a natural egg replacer in these fluffy vegan pancakes.
GROUND FLAX – they keep these pancakes nicely together (especially the oat version, which needs a little help in that department) and give you a boost of omega-3 and omega-6 fatty acids, which your body needs to stay healthy.
FLOUR – these pancakes are quite versatile and work with a variety of flours. I tested regular flour, buckwheat and oat flour and a combintion of the last two, which is my favourite version actually. I'm pretty sure that wholemeal flour or spelt flour will work well too but whatever flour your choose, be aware that the amount of liquid needed may need a bit of tweaking (aim for a batter that's thick but still just about pourable) as different flours have different absorbency levels.
LEMON JUICE – a small amount of acid (lemon or lime juice ideally) comes into a reaction with baking soda and helps these pancakes rise.
BAKING AGENTS – a combination of baking powder and baking soda gives these pancakes a nice rise. A dash of lemon juice comes into a reaction with baking soda and helps that process even more.
PLANT MILK – I used oat milk, but any plant milk will do or even water if you are out. You can also use coconut milk from a can, but make sure to dilute it with 50% water as it's quite a lot thicker.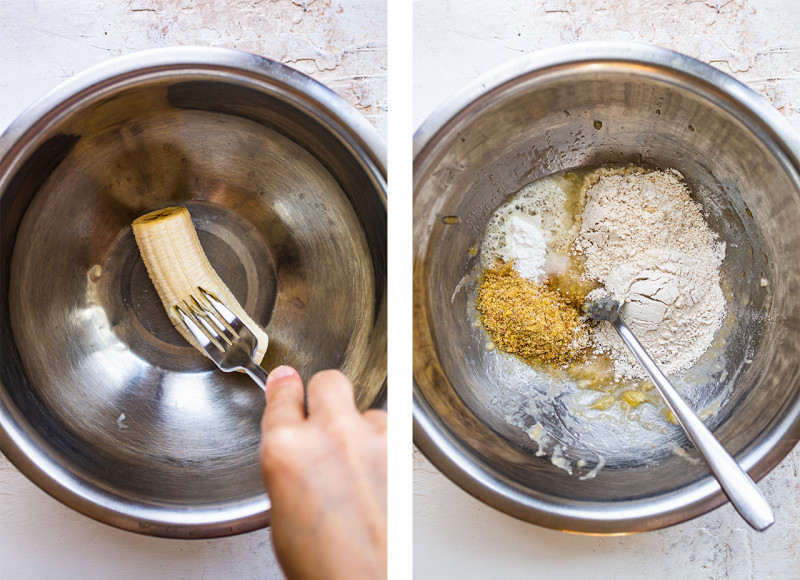 Mash a ripe banana up well with a fork, add ground flax seed, flours (or flour), baking agents and lemon juice.
Add plant milk and mix really well, until you obtain a uniform batter. Allow to sit for 5-10 minutes to thicken. Once thickened, you may need to adjust the batter by adding a little more liquid (if the batter is too stiff) or a little more flour (if it's too runny). What you want to achieve is a thick batter that are dollop on the pan with a measuring cup (only just pourable).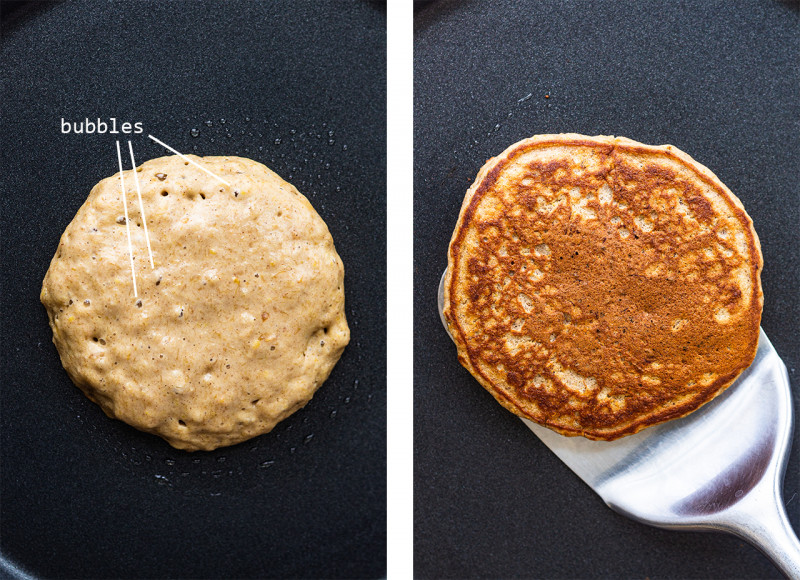 Use a tested non-stick pan, pre-heated and brushed with a little bit of oil. Ladle one third (or half) of the batter) onto the pan and allow it to cook, on low-medium heat, undisturbed until lots of little bubbles appear on the surface of the pancake (about 3 minutes) and most of the burst. Flip to the other side and carry on cooking for another 1-2 minutes. Keep an eye on the heat bearing in mind that the pan will get progressively hotter so you may want to decrease the heat a little once it does as otherwise you will end up with pancakes that are raw in the middle.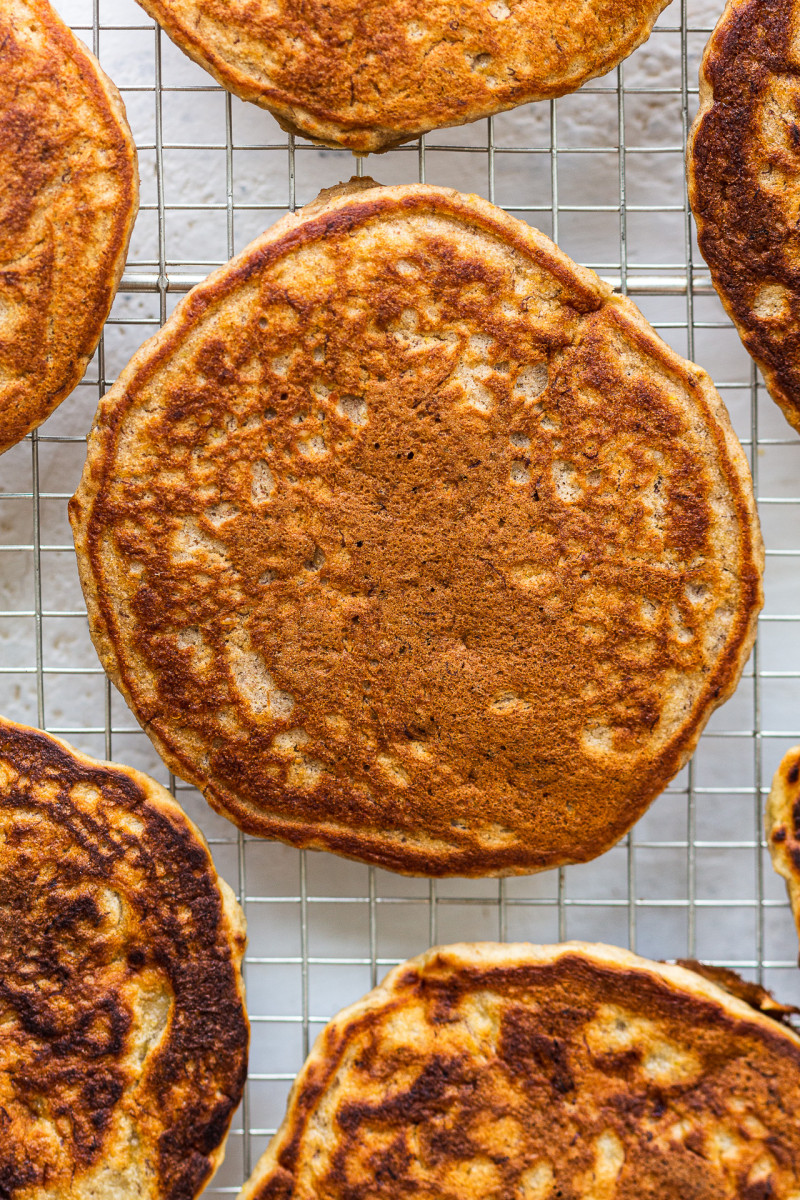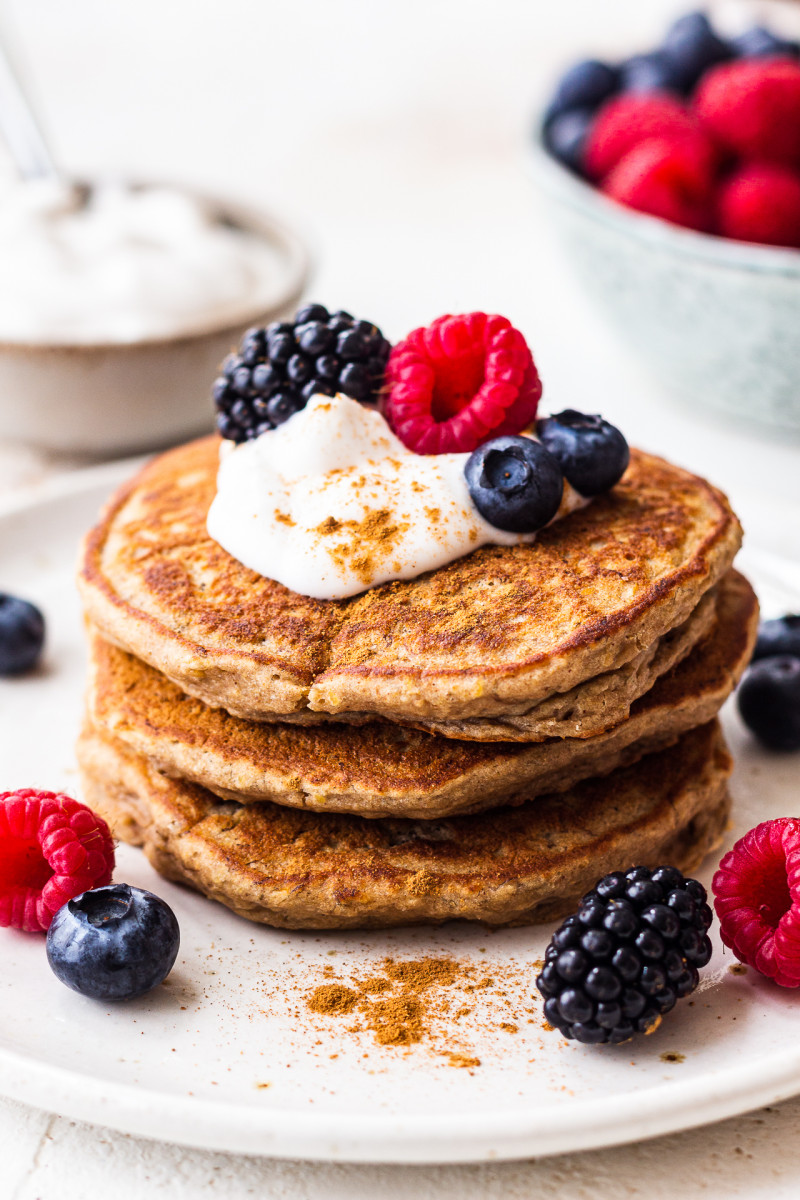 PANCAKES
100 g / 3.5 oz (heaped 1/3 cup mashed) peeled banana
1 tbsp ground flax*
25 g / 3 tbsp buckwheat flour (see NOTES for options)
20 g / 3 tbsp oat flour (see NOTES for options)
¼ tsp baking soda
½ tsp baking powder
1 tsp lemon or lime juice
approx. 60 ml / ¼ any plant milk
7.5 ml / 1½ tsp oil, for frying
TOPPINGS (optional)
berries or other seasonal fruit
chopped nuts of choice
thick vegan yogurt
maple syrup
METHOD
Mash banana up well with a fork.
Add ground flax seed, flours (or flour if using only one type), baking soda, baking powder, lemon juice and plant milk.
Mix really well and set aside for 5-10 minutes for the batter to thicken. Depending on what flour you've used and how acturately you measured, you may need to add a dash more plant milk or a little more flour after resting. Your batter should be thick but just about pourable.
Heat up a trusted non-stick pancake (flat) pan and brush it with oil using a silicone brush.
Ladle ¼ cup of the pancake batter per pancake (this will give you 3 small pancakes) or generous 1/3 cup per pancakes (this will give you 2 larger pancakes).
Cook each pancake for about 3 minutes (until tiny bubbles appear on the surface and burst) on one side and then flip. Cook for 1-2 minute on the other side. Take care not to overcook the pancakes as they will be dry and be mindful of the fact that the pan will become progressively hotter so you may need to decrease the heat a little as you go on.
Serve with seasonal fruit, chopped nuts, a dollop of vegan yoghurt and a drizzle of maple syrup if you wish.
NOTES
*GROUND FLAX: I have not tested this recipe with ground chia seeds, but they tend to perform very similarily in this context so I am fairly confident that they will work the same.
*FLOUR: I have tested a range of flours and my favourite version is buckwheat flour and oat flour combined as per the recipe, but I have also made these with regular (AP) flour, 100% buckwheat flour and 100% oat flour. 100% oat flour are my least favourite ones as they don't have as much body as other other versions.
ALL PURPOSE FLOUR: use 50 g / 1.75 g (6 slightly heaped tbsp) instead of buckwheat/oat flour.
BUCKWHEAT FLOUR: use 50 g / 1.75 g (approx. 6 tbsp) instead of buckwheat/oat flour
OAT FLOUR: use 50 g / 1.75 g (scant ½ cup) instead of buckwheat/oat flour.
You can make the batter IN ADVANCE, but don't add baking powder and baking soda until just before you make your pancakes as they tend to lose their fizz if sat around for too long.
NUTRITIONAL INFO
*per portion (without toppings)