Vegan Crockpot Chili – Food with Feeling
This Vegan Crockpot Chili is loaded with so much flavor, you'll never miss the meat! It's easy to make with a blend of delicious spices, colorful veggies and three types of beans, all simmered together in a slow cooker to make a hearty meal. The perfect easy dinner option that's great for feeding a crowd! 
If you're thinking that this recipe looks familiar it's because it's VERY similar to THIS loaded vegan chili recipe that I posted not too long ago. It's one of the most popular recipes on my blog right now and since I've been asked QUITE a few times if it could be adapted to a slow cooker recipe, I thought that I would give it a try.
Turns out, my vegan chili recipe works GREAT in a crockpot. It makes the whole process significantly easier as well, since you literally just dump everything in and then, let the slow cooker work its magic. I'm a pretty big fan of delicious AND easy!
I'm not a big meal prep-er (largely because I work from home) but if I was, this crockpot vegan chili would be one of my go-to recipes. It lasts in the fridge for quite a few days while still tasting great and I always look forward to the leftovers (I definitely cannot say that about all of the recipes that I try!).
Ingredients Needed:
This easy vegetarian chili recipe is made with good-for-you ingredients that you might already have on hand. Not only is there no meat in this recipe, but there's also no dairy, so this recipe is naturally vegan! Here's what you'll need to make vegan crockpot chili:
Onion + garlic. A classic combo for any good chili recipe!
Green bell pepper. Adds a slightly spicy and aromatic flavor. 
Vegetable broth. Use more or less veggie broth, depending on how thick you like your chili.
Tomato sauce. Infuses this chili with a bright, zesty flavor that complements the beans. 
Diced tomatoes. Any diced tomatoes work, but I really love using fire-roasted tomatoes in soup and chili recipes. Fire-roasted tomatoes are charred over a flame before being diced and canned. Contact with the flame brings out the tomato's sweetness and imparts a distinct, smoky flavor. So delicious!
Beans. The recipe calls for kidney beans, great northern beans and black beans, but feel free to use any combination of beans you'd like. Pinto beans and/or chili beans would also work great.
Cocoa. Adding cocoa powder to chili might sound strange at first glance, but it adds a great depth of flavor that sets this chili recipe apart from others. Trust me on this one! 
Spices. Chili powder, oregano, cayenne pepper, salt and pepper create the perfect blend of flavors. 
Corn. Corn adds a bit of crunch and sweetness. I always use frozen, but feel free to use fresh or canned corn that has been drained.
How to Make Vegan Crockpot Chili
I've seen a lot of slow cooker chili recipes that have you do a lot of cooking before you ever even add anything to the crockpot. I find this extremely unnecessary. I just dump the veggies in raw and let the slow cooker do all of the hard work.
Here's the simple process, but for the full, printable recipe, reference the recipe card at the bottom of the page.
Prep + cook. For this vegan chili, simply add ALL of the ingredients into the crockpot (minus the corn, which will go in at the end), mix well and cook for 2-3 hours on HIGH or 4-5 hours on LOW. SO FREAKIN' EASY!
Add corn. 30 minutes before serving, stir in the corn and allow the chili to continue cooking until the corn is warmed through.
Serve. Once fully cooked, taste and add salt and pepper or any other spices, as preferred. Ladle chili into bowls and top with your favorite chili toppings and enjoy!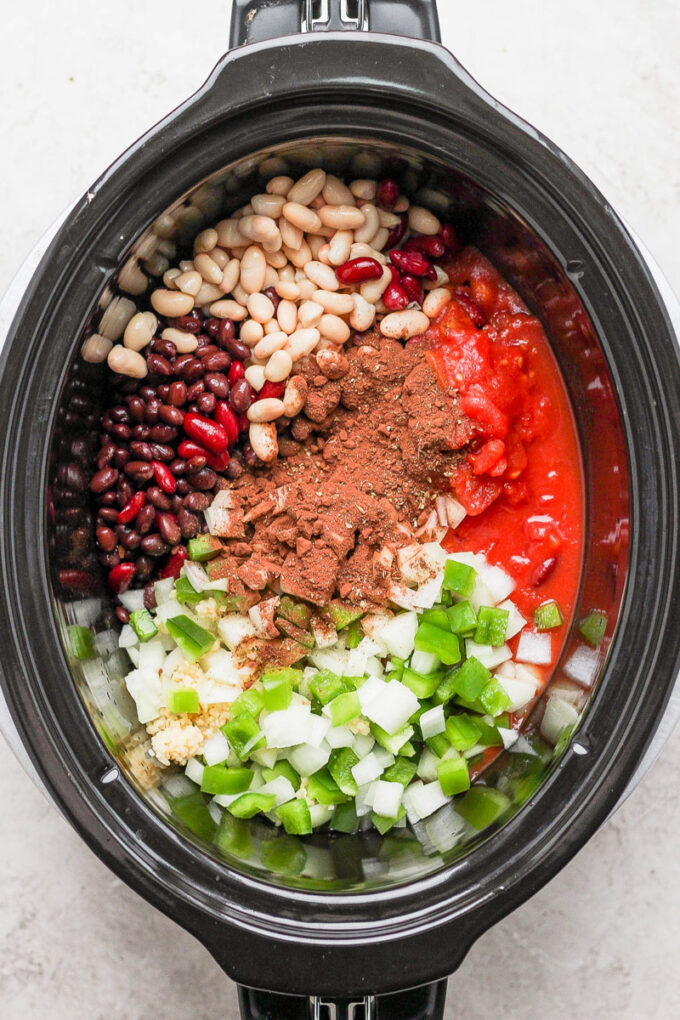 How to Make Vegan Chili on the Stovetop
If you're in a bit of a time crunch and want to quickly make this chili on the stovetop in just about 30 minutes, you totally can. Here's how:
Sauté. Heat a tablespoon of oil in a large stockpot or Dutch oven. Once hot, sauté the onion and bell pepper for about 5 minutes and until soft. Once the onion and bell pepper are soft, add the garlic and cook, stirring frequently, for a couple of minutes.
Simmer. Now, add the rest of the ingredients – broth, tomato sauce, tomatoes, beans, cocoa and spices into the pot. It's time to let everything simmer. The longer the chili simmers, the more flavorful it will become. Cover and let it simmer about 10 minutes. Add corn and simmer about 20 more minutes and until everything is warmed through.
Serve. Once cooked to your liking, taste and add salt and pepper, as preferred. Serve chili and add your favorite chili toppings!
Favorite Toppings for Vegan Crockpot Chili
As much as I love this three bean chili as-is, it's even better with lots of toppings. Here are some favorite topping ideas:
Shredded cheese. I typically sprinkle some shredded vegan cheese on top of this chili. The cheese gets all melty and delicious! Yes, please!
Avocado or guacamole. A must for me when I eat Mexican-flavored dishes. By the way, my guacamole recipe is bomb!
Sour cream or plain yogurt. There are lots of great dairy-free sour cream and yogurt options to try and I love the creaminess that it adds.
Tortilla chips or strips. One of my favorite toppings to add is crushed tortilla chips or strips. Adds the perfect crunch!
Cilantro. I'm a huge fan of cilantro and add extra to almost all Mexican recipes that I make. So flavorful and yummy!
Green or red onions. About a tablespoon of green or red onions gives this chili an extra boost of flavor.
Lime juice. A squeeze of a lime is the perfect finish to this chili recipe!
Serving Options
This vegan chili is hearty enough to be enjoyed as a meal on its own, but it's also delicious with some sides. Here are some serving ideas:
We love serving this and any chili with my vegan cornbread. It's so good! 
Try serving this chili over a baked russet or sweet potato.
For a lighter side dish, a side salad with fresh greens would be a great choice.
Frequently Asked Questions
Is vegan chili good for you?
This plant-based chili is VERY nutritious! It's packed with healthy, wholesome ingredients like veggies and beans that contain numerous health benefits. It's also low in calories and fat, but high in protein and fiber, which makes it perfect for satisfying lunches and dinners. 
Is this chili spicy?
I would rate this chili as mild, but everyone's sensitivity to spice is different. If you're extra sensitive to spice, use a red bell pepper rather than a green one, use regular diced tomatoes as opposed to fire-roasted tomatoes and omit the cayenne pepper. In addition, topping this chili with ingredients like cheese, avocado and sour cream or yogurt will decrease the spiciness of the chili quite a bit.
If you love the heat and would like a spicier chili, use a green bell pepper, fire-roasted tomatoes and the cayenne pepper. You can further increase the heat by adding a diced jalapeño or diced chipotle pepper. You could also sprinkle in some crushed red pepper flakes.
How to store and reheat chili?
This vegan chili will keep well in your fridge for up to about 5 days. Once your chili is completely cooled, just place it in an airtight container (or multiple, if you'd like to meal prep it) without any additional toppings and store it in the fridge.
To reheat the chili, simply place it in a microwave safe bowl and microwave for about 2 minutes, or feel free to reheat it on the stovetop. Add your toppings once you're ready to serve!
Can you freeze vegan crockpot chili?
This chili recipe is very freezer-friendly. Place the chili into gallon-sized freezer bags or airtight freezer-safe containers. Freeze for up to 3 months. Remember to add the date on the chili, so you remember when you placed it into the freezer. When you're ready to enjoy the chili, thaw it in the refrigerator overnight, then reheat it in the microwave or on the stovetop until it is warmed through.
See how to make the slow cooker chili here:
As usual, PLEASE PLEASE let me know if you end up making this vegan crockpot chili recipe (or any of my recipes!). I love when you tag me on Instagram @foodwithfeeling!
More Delicious Vegan Chili Recipes to Try:
Print
Description
This Vegan Crockpot Chili is loaded with so much flavor, you'll never miss the meat! It's easy to make with a blend of delicious spices, colorful veggies and three types of beans, all simmered together in a slow cooker to make a hearty meal. The perfect easy dinner option that's great for feeding a crowd!
---
---
In a large slow cooker, add all of the ingredients MINUS the corn. Mix well and cook for 2-3 hours on HIGH or 4-5 hours on LOW.
30 minutes before serving, add in the corn and allow the chili to continue cooking until the corn is cooked through.
Serve and ENJOY! Store in the fridge in an airtight container for up to a few days.
Notes
**Many people have pointed out to me that the video calls for cinnamon. I just messed up when editing the video. The recipe calls for COCOA
Prep Time:

10 minutes

Cook Time:

3 hours

Category:

Vegan

Method:

Crockpot

Cuisine:

American
Keywords: vegan, crockpot, slow cooker, chili, soup