Vegan Biscuits – Food with Feeling
If you've been looking for a plant based version of some GOOD southern style vegan biscuits, then LOOK NO FURTHER! This Vegan Biscuits recipe has so many delicious flaky layers AND come together with just SIX simple ingredients. I've made these so many times and am completely obsessed with them.
POST UPDATED WITH NEW PHOTOS ON NOVEMBER 1, 2021.
I've teased this recipe on my Instagram SO MANY times and I'm glad to FINALLY be posting it. I was determined to film a full Youtube video to go along with it and just had to find the time (and enough sunlight in the Pacific Northwest) to actually get it done. I've also recently updated the post with a short-form video as well that you can see on tiktok HERE!
But without further ado, I give you the BEST DAMN VEGAN BISCUITS that you will ever MAKE! I've made this recipe SO MANY times over the past couple of years and just really love how delicious these turn out each time. Ps-I definitely recommend making a batch of THIS homemade apple butter to go with your biscuits 🙂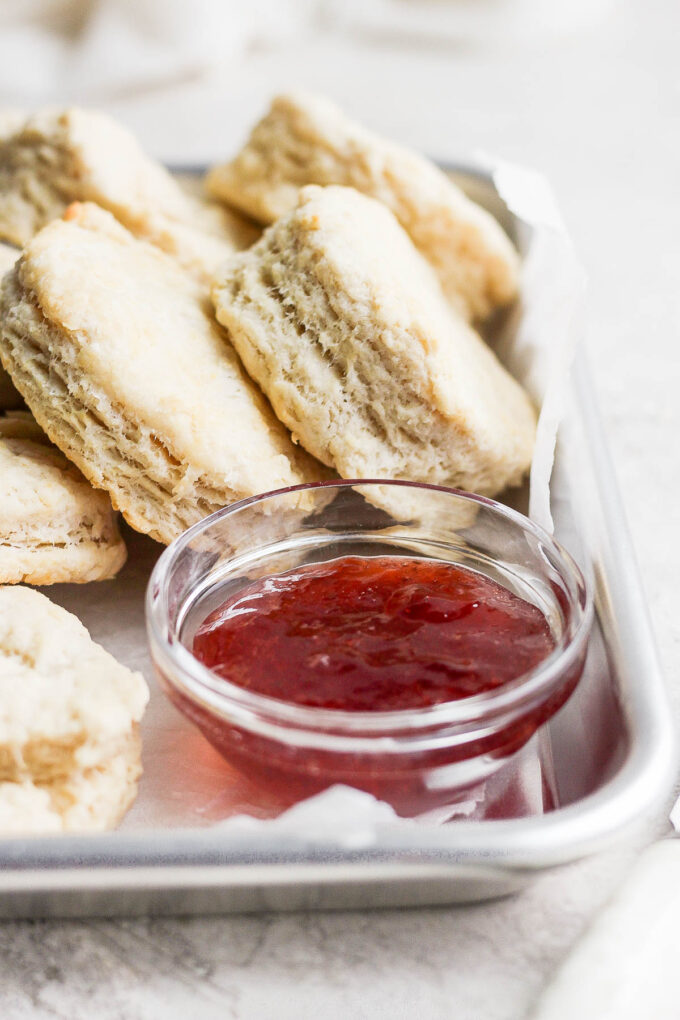 To say that I'm obsessed with these biscuits is most certainly an understatement I'm pretty positive that you will feel the exact same way after you bake them for the first time.
They're ridiculously easy to make (HELLO only 6 simple ingredients!) and even if you're not someone who typically enjoys baking, you will LOVE making these 🙂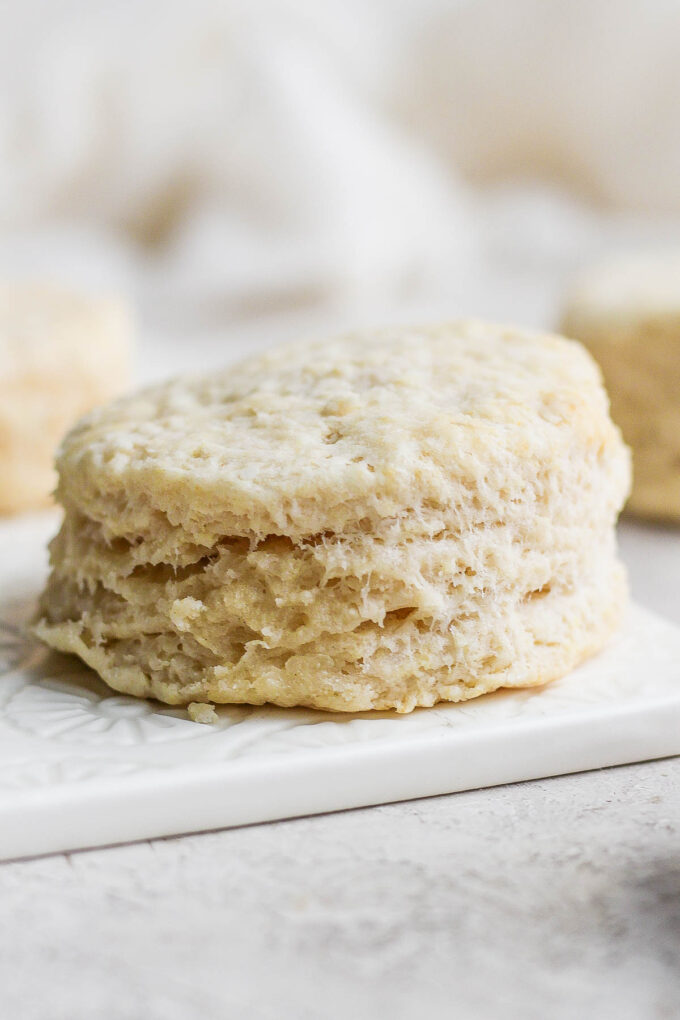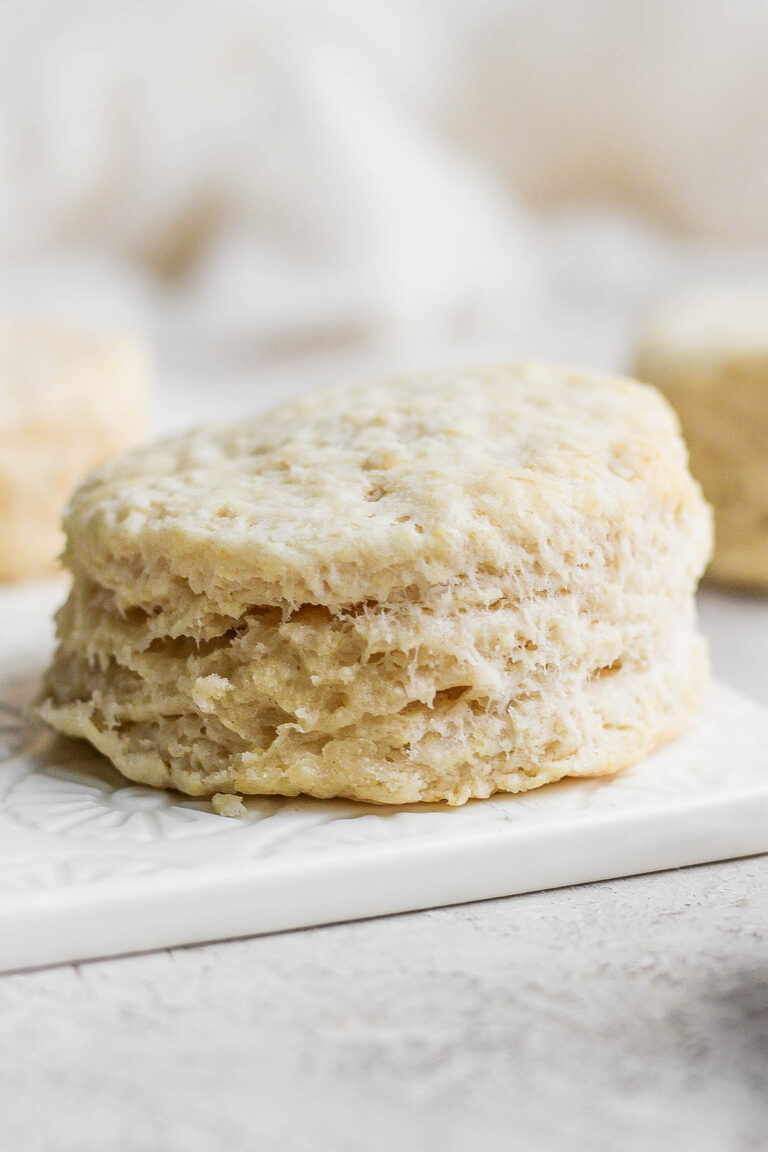 Down at the bottom of the post, I have a FULL video that walks you through the ins and outs of making these biscuits. But, let's go over the basics!
SIX simple ingredients that we're working with:
Flour. I know people are going to ask me about making these gluten free and the only advice I have for you on this one is to simply use a gluten free 1-1 flour substitute. I have never tried these with oat flour, almond flour, or anything like that.
Baking Powder
Salt
Plant Based Milk. I test this with oat milk as well as almond milk and both worked great. I think that you can use pretty much whatever plant milk you have on hand.
Lemon Juice. You don't taste this in the recipe AT ALL but it's used to curdle the milk a little and essentially make a vegan buttermilk.
Vegan Butter. I talk extensively about this in the butter but the short version of it is that my favorite butter to use in these biscuits is the Country Crock Plant Butter. Miyokos or Earth Balance would also work well but they're quite salty so maybe decrease the amount of added salt you put in.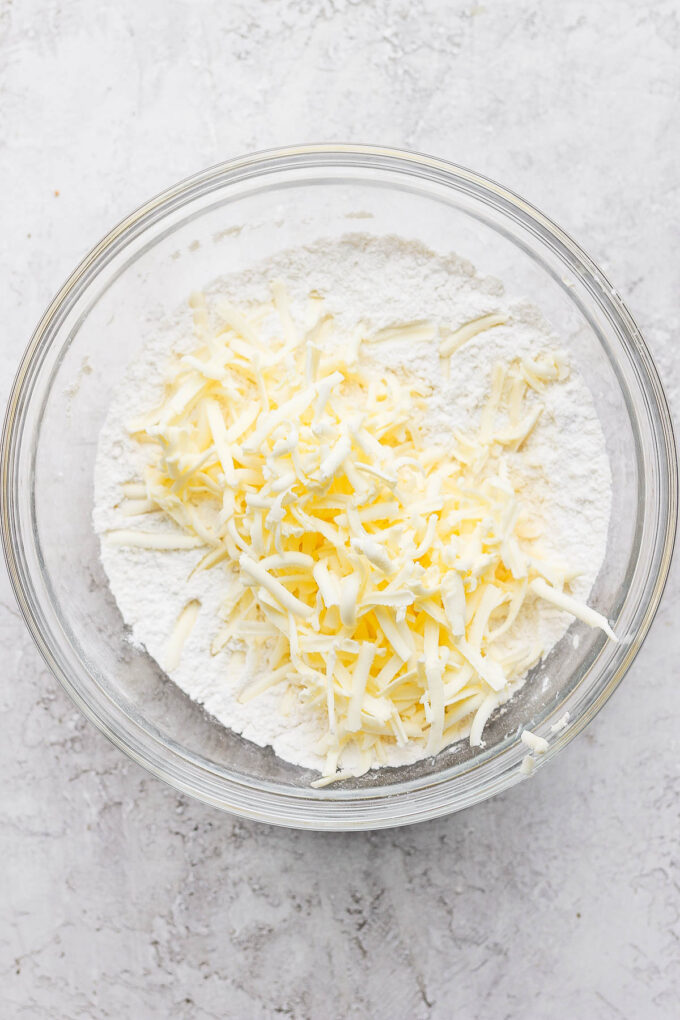 How to make these Vegan Biscuits:
These are so super simple to make and ultimately come together in one big bowl.
Start out by mixing together the dry ingredients in a large bowl and then whisking together the milk and lemon juice in a small container and set aside.
Using a cheese grater, grate the COLD butter directly into the dry ingredients and then using your hands, work it into the flour mixture until you have small pea sized bits of butter left. Pour in the milk mixture and mix until just combined.
Now the key to getting these biscuits NICE and flaky is a method of cutting the dough in half and then stacking it on top of itself several times. So we'll roll the dough out into about 1/2 inch and cut it in half. Place one half on top of the other and then repeat this process 2 more times.
Then simply cut your biscuits out and bake them for 10-12 minutes! SO EASY!
The recipe as written calls for 8 biscuits but I've also made it (like in the video which I explain) with just 6 biscuits. I like making just 6 because they end up taller and fluffier and the layers really get a chance to shine. But, 8 works great too 😀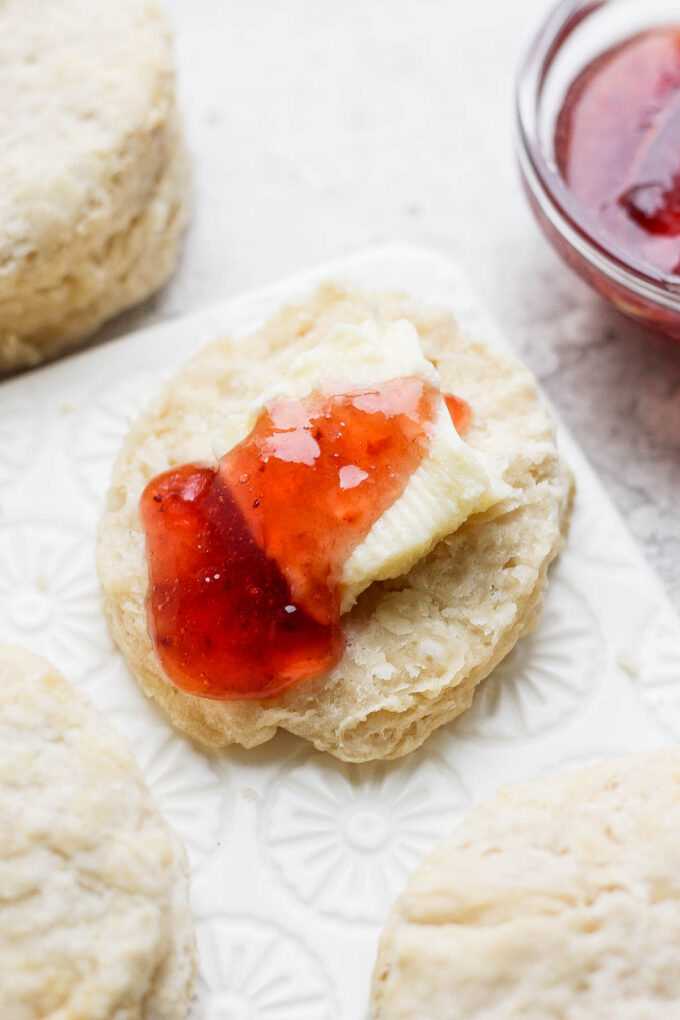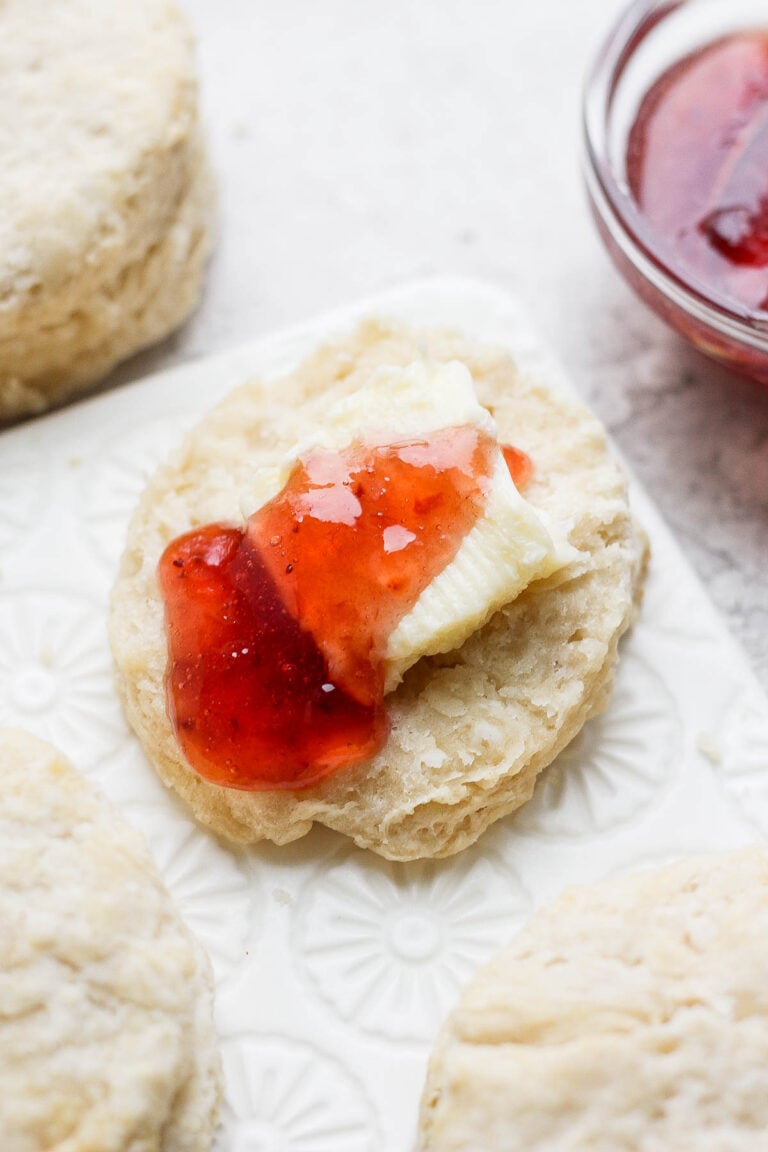 See an extensive video walk through on how to make these delicious biscuits here:
Print
Description
Fluffy and delicious VEGAN Biscuits!
---
---
Prep Time:

15 minutes

Cook Time:

10 minutes

Category:

breakfast

Method:

baking

Cuisine:

american
Keywords: vegan biscuits, vegan baking, vegan breakfast