Chewy Granola Bars – Food with Feeling
These 5 Ingredient Chewy Granola Bars are simple to make and come together in no time! Such a healthy and delicious snack or breakfast. These are great for on the go and just an easy way to fuel your body!
I'm partnering up once again with Natural Delights which is my GO TO source for fresh and delicious Medjool dates. I used their dates to naturally sweeten these granola bars which makes them healthy and packed with nutrients!
I grew up eating granola bars on a DAILY basis. I've always really loved them and started making them at home a few years ago. I loved the idea of being able to control the ingredients in my bars AND being able to use the various nuts and mix-ins that I happened to have on hand. Sometimes I use just almonds or cashews but my favorite is actually to do a mix of several different kinds of nuts.
These are naturally sweetened with Medjool Dates! We're going to use a food processor to create a paste out of he dates. The date paste is what holds everything together and conveniently also gives them such a deliciously sweet taste.
I like to make a big batch of these and then keep them in the freezer. They thaw quickly (I usually eat them a little hard but it still tastes great- especially in the summer!) and keep much longer (I'll keep them in the freezer for a good 6 months).
Here are the 5 simple ingredients in these healthy granola bars:
Natural Delights Fresh Medjool Dates (my all time favorite!)
Old fashioned oats
Peanut butter (or other nut/ seed butter of choice)
Mix ins (nuts, seeds, chocolate chips, dried fruit, etc)
Touch of maple syrup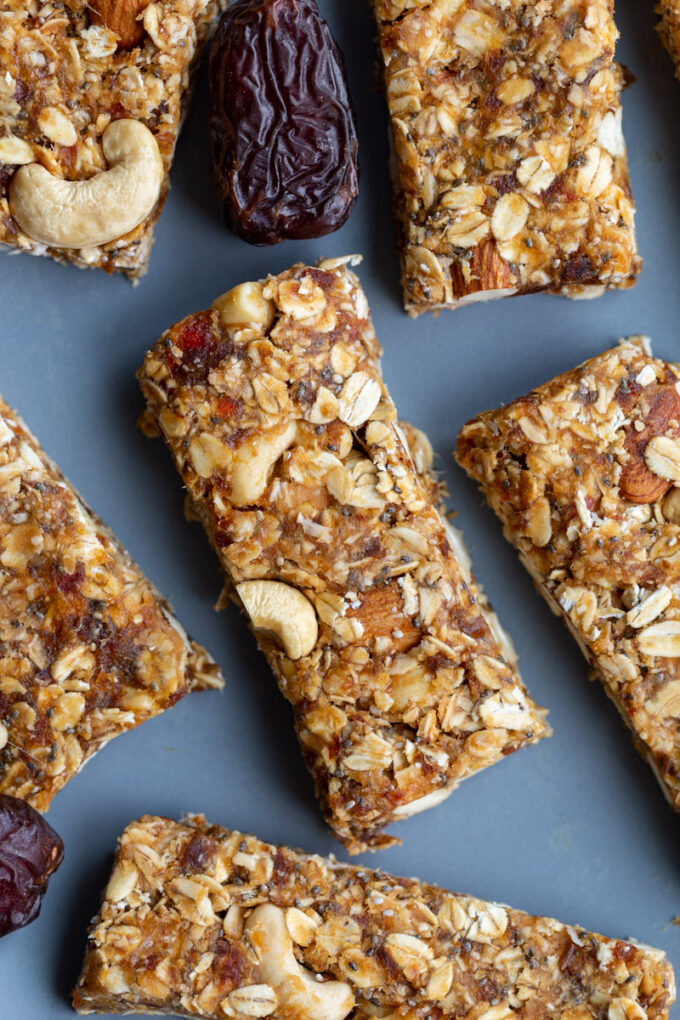 For the mix ins, I usually use a random mix of whatever I have on hand at the moment. But my favorite (as pictured), is a 50/50 mix of roasted or raw cashews + almonds with about a tablespoon of chia seeds mixed in as well.
I've also made these with chocolate chips and various kinds of dried fruit (dried cherries or cranberries are so good in these!). You can also try dipping them in chocolate which is delicious but ends up a little messier when you try to eat them. So keep that in mind if you want to dip or drizzle these with chocolate.
Medjool dates are truly a superfood and I love the nutritional value and sweetness that they add to the granola bars! Combined with the oats, nuts, and peanut butter, these bars end up so filling and offer a nice boost of energy in between meals. I'm a huge fan 🙂
If you end up making these granola bars, PLEASE let me know how you like them! Just SO so good!
And don't forget to pick up some Natural Delights Medjool Dates! They're my ALL TIME favorite and a long time supporter of my blog. It really means a lot to me when you check out the brands that make Food with Feeling possible!
Print
Description
These chewy granola bars are simple to make and require just 5 ingredients!
---
1 cup

of dates, pitted*

1 1/2 cups

of old fashioned oats

1/3 cup

of nut or seed butter (peanut butter is typically my go to for these)

2 tablespoons

of maple syrup or honey

1 cup

mix ins (nuts, chia seeds, raisins, dried cranberries, flax seed, pepitas, chocolate chips, dried fruit, coconut, etc), can be one cup of 1 thing such as 1 cup of almonds OR it can be a 1 cup mixture of any mix ins

Optional for dipping or drizzling: melted chocolate
---
Place the dates into a food processor and blend until they form a paste. It takes about a minutes. Stop to scrap down the sides as needed. 
In a small saucepan over medium heat, mix together the nut butter and maple syrup, stirring constantly until fully combined. Remove from the heat. 
In the same bowl with the date paste, mix in the oats, 1 cup of mix ins, and peanut butter mixture. Mix until thoroughly combined.
Pour the mixed into a lined 8×8 inch pan (or similar size) and press down firmly so that everything is nice and compact. Place in the fridge or freezer to set and chill for about an hour.
Cut into 8-10 bars and ENJOY! I recommend storing leftovers in the fridge (or freezer to last longer)
Notes
*soak in hot water for about 30 minutes and then drain if your dates are a bit older and dried
Prep Time:

10 minutes

Chill Time:

1 hour

Category:

snacks

Method:

chill

Cuisine:

american
Keywords: vegan granola bars, no bake granola bars, how to make granola bars