Baked Oats (Tiktok Viral!)- 2 ways
These Baked Oats went viral on Tiktok and for very good reason! They're SUPER easy to make, a delicious breakfast, and kind of just tastes like cake!
Have you seen these #BakedOats trending on social media lately? As most of these things do, it started out as a trend on tiktok and quickly spread.
But this isn't your average oatmeal bake where you mix oats with liquid and some other ingredients and then bake it. Instead for this recipe, we're BLENDING everything together. So, instead of oats you basically end up with oat FLOUR and the end result is something more like CAKE then oatmeal and I LOVE IT for that!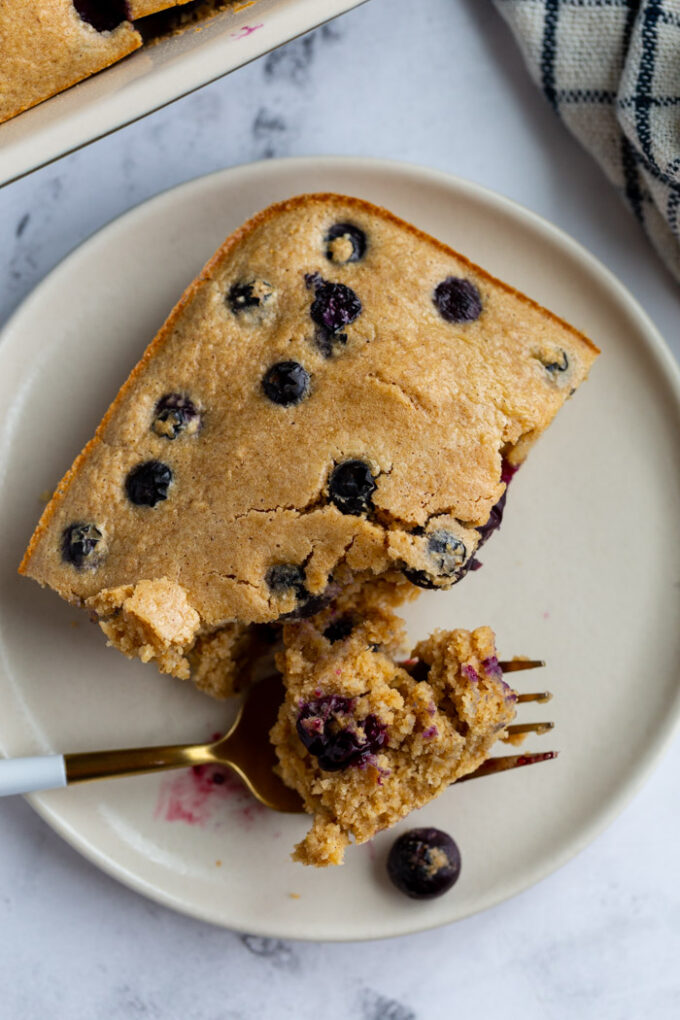 The first video that I saw sharing these baked oats had NO recipe with it (just someone making it but no way of knowing what they were actually putting into them). SO, I figured that I would try making my own version of it and here's how it turned out:
@foodwithfeeling

I am HERE for this food trend #bakedoats #bakedoatsrecipe #recipesforyou

♬ She Share Story (for Vlog) – 山口夕依
I haven't posted *that much* to Tiktok yet but that video is my highest viewed video with 700k views in just 48 hours!
Since people loved it so much and had so many questions about the recipe, I posted another version of it. I figured it would be easiest if I wrote both of the recipes down in an easy to find place for you 🙂
What's in Baked Oats?
As I mentioned, I created 2 different versions of the recipe. One version is very closely modeled after THESE Oat Flour Muffins while the other version of the oats using eggs instead of banana (because SO many people were asking about that).
Here are the main ingredients in the banana version (which is my favorite!):
Old fashioned oats– one of the questions that I got most often was if different kinds of oats can be used for this recipe. I've only tried it with old fashioned oats so try at your own risk.
Milk– use what you like! I tested this with oat milk, almond milk, and 2%.
Maple Syrup– several people complained that there was too much syrup in this. 1) There's 1/4 cup which is 200 calories. Split between the 4 servings, that's just 50 calories a serving which is worth it to me for a nice bit of sweetness if adds 2) you can actually leave out the syrup if you desire.
Flavorings– vanilla + cinnamon which are both optional
Salt + Baking Powder +Baking soda
Ripe Banana– this is used in place of eggs to bind things but it also adds a delicious amount of sweetness and kind of tastes like banana bread.
Nut or seed butter– I really like this version of it but you can actually leave this out as well if you wish.
What does it taste like?
This will depend largely on which version that you make.
The vegan version tastes a lot better to me and I much prefer that one! It has a texture very similar to cake that's a little softer (as you'd expect from oatmeal). It's sweet and delicious!
While also very yummy, the egg version of the Baked Oats is much denser and kind of spongey. It rises a little more than the vegan version.
---
As usual, PLEASE let me know if you make this recipe and let me know how you like it! You can come back here and leave a comment or tag me on instagram (@foodwithfeeling).
More Breakfast recipes to try:
Print
Description
These Baked Oats went viral on Tiktok and for very good reason! They're SUPER easy to make, a delicious breakfast, and kind of just tastes like cake!
---
For the vegan version:
1

large ripe banana

1/4 cup

of maple syrup

2/3 cup

of milk (plant based as desired)

3 tablespoons

of nut butter

1 teaspoon

of vanilla

1 cup

of old fashioned oats

1 tablespoon

of baking powder

1/2 teaspoon

of baking soda
pinch of salt
optional: 1/2 teaspoon of cinnamon

½ cup

of optional mix-ins such as berries, chocolate chips, etc
For the egg version:
2

large eggs

1/4 cup

of maple syrup

1/2 cup

of milk (dairy free works)

1 teaspoon

of vanilla

1 cup

of old fashioned oats

1 teaspoon

of baking powder
pinch of salt

1/2 teaspoon

of cinnamon
---
For both versions:
Pre-heat the oven to 350 degrees F and grease a small casserole dish. Mine is a unique size of 6×8 but anything close to that will work including a 9×5 bread loaf pan or an 8×8 inch brownie pan (although you might want to slightly alter the baking time depending on your size).
Add all ingredients to a blender MINUS your mix ins. Blend until creamy and little to no chunks of the oats remain. Mix in berries or anything else you desire.
Pour batter into the greased baking dish and top with my mix ins as desired. Bake for 20-25 minutes (mine was perfect at 25 minutes) or until a toothpick inserted in the middle comes out clean.
ENJOY!
Notes
Nutritional info below reflects the recipe using eggs.
For the vegan version: 4 servings. Each serving is 234 calories.
Category:

breakfast

Method:

baking

Cuisine:

american
Keywords: tik tok baked oats, baked oats, baked oatmeal