65+ Vegan Dinner Recipes – Food with Feeling
This list has 65+ DELICIOUS Vegan Dinner recipes including vegan sides, vegan instant pot recipes, vegan crockpot recipes, vegan pasta recipes, vegan soups and MORE!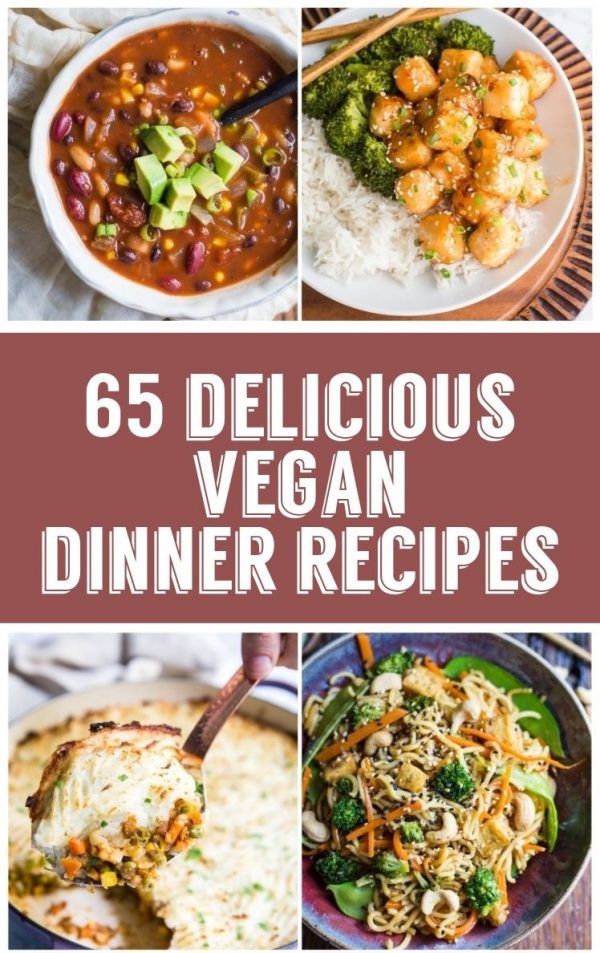 After over 7 years of blogging, I have a great base of AMAZING recipes on my site and I figured that it was finally time that I start doing some roundups. Since vegan food recipes have been my favorite to create lately, I thought that I would start with a Vegan Dinner Recipes roundup.
I broke this list down into categories based on what I had quite a few of. Turns out, I have a LOT of great vegan soup, vegan taco, and vegan pasta recipes so I created a categories for each of those. There's also a separate category for vegan side dishes with everything falling under the main category of "Vegan Main Dishes". I hope that you'll find some new favorite vegan recipes from this list! Please let me know in the comments which are your favorite!
All of the recipe titles, as well as the photos themselves, are clickable and direct to the recipe!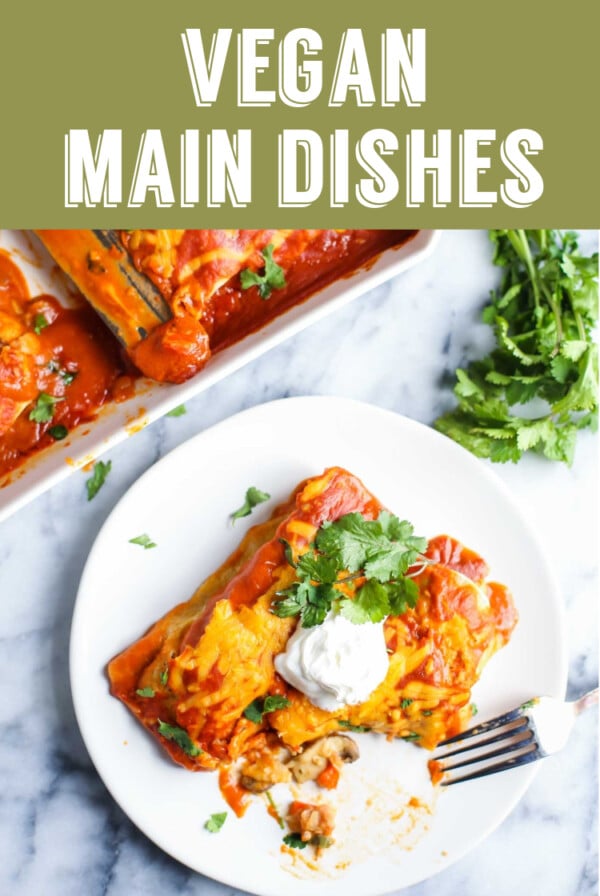 Vegan Main Dish Recipes
These Vegan Recipes are all rather easy to throw together and feature a nice mix of healthy vegan recipes and fun indulgent recipes! There are some one pot dishes here and vegan recipes that would be great for meal prep as well. These are seriously some of the BEST vegan recipes you'll ever make:
Veggie Vegan Enchiladas
Creamy Tomato One Pot Pasta
Copycat Chipotle Sofritas Recipe
Cauliflower Buffalo Wings
Vegan Parmesan Crusted Tofu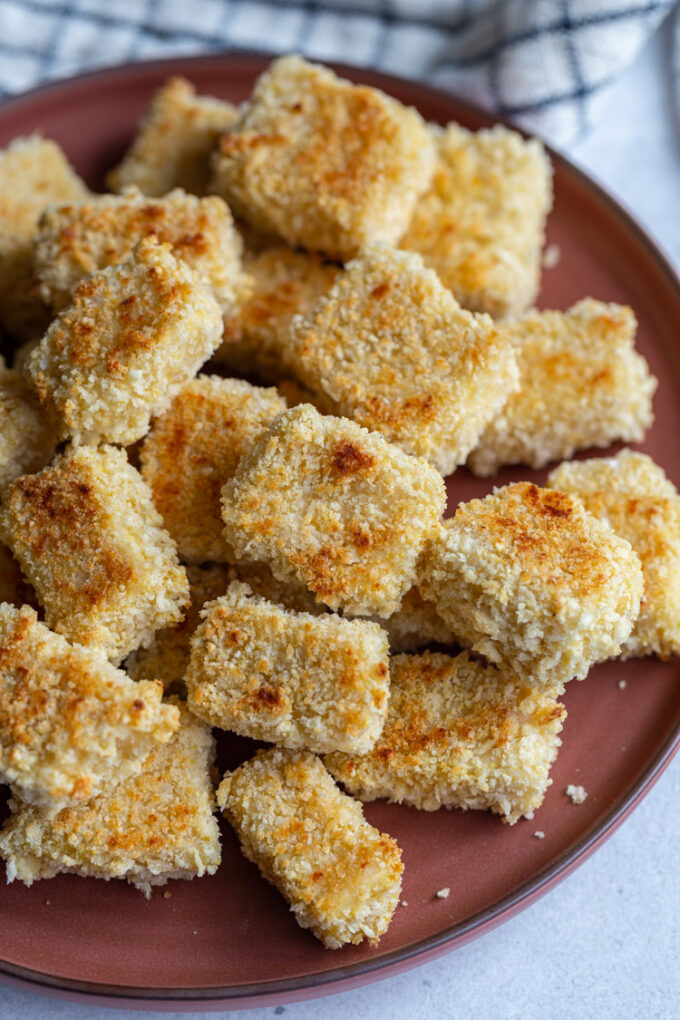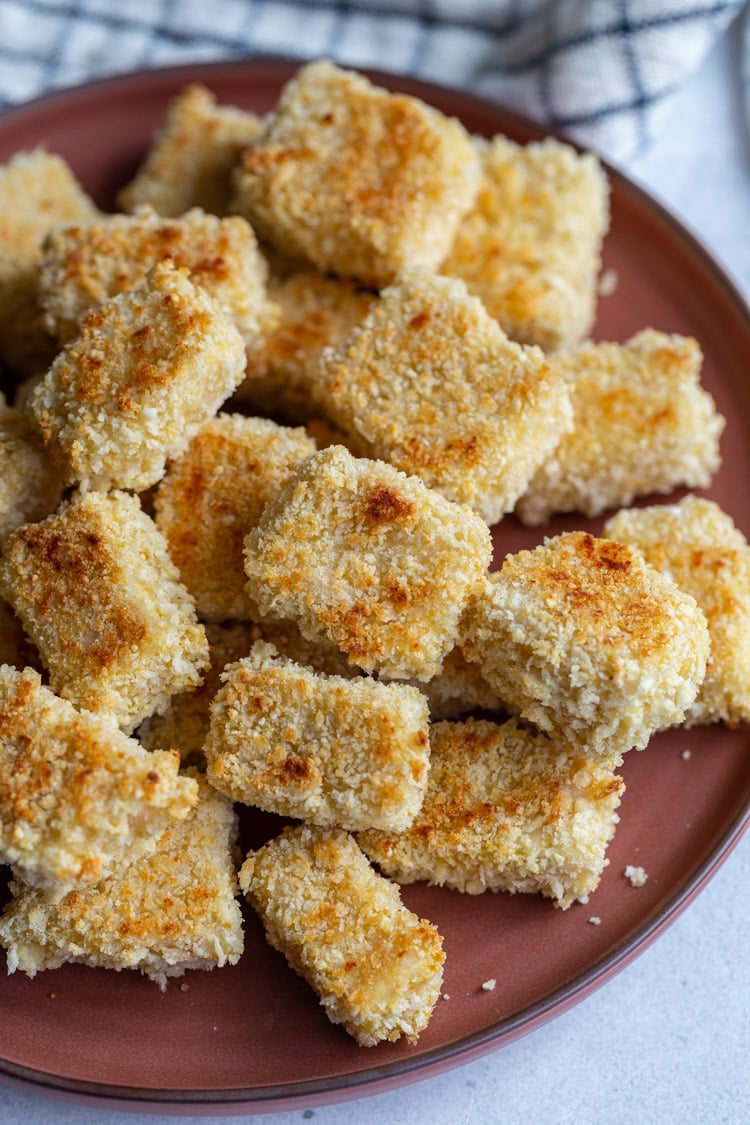 Vegan Pizza
BBQ Tofu Bowls
Tofu Kebabs
Tofu Salad
Easy Vegan Meatballs
Cashew Tofu Stir Fry
Vegan Burrito Bowl
Jackfruit Pot Roast
Coconut Lentil Curry
Chickpea Vegan Pot Pie
Loaded Vegan Nachos
Chickpea Stuffed Sweet Potatoes
Chickpea & Sweet Potato Coconut Curry
Guacamole Stuffed Sweet Potatoes
Mushrooms Bourguignon
Smoked Tempeh Bowls
Vegetarian Tikka Masala

Black Bean Stuffed Sweet Potatoes

Sweet Potato Gnocchi

Tofu Stir Fry

Perfect Crispy Baked Tofu
Sweet and Sour Tofu
Loaded Veggie Enchilada Casserole
Crispy Tofu with Sweet Chile Sauce
Vegetarian Shepherds Pie

Sweet and Sour Cauliflower

Sesame Ginger Tempeh Stir Fry

Easy Tempeh Fajitas
Mushroom and Pea Risotto
Fajita Pizza
Spinach Gnocchi
Burrito Bowl Stuffed Peppers
Holiday Wreath Taco Ring
Tofu Vegan Banh Mi Sandwich
Enchilada Zucchini Boats

Cauliflower Nashville Hot "Chicken"

Black Bean & Quinoa Vegan Burgers
Vegan Cauliflower Lentil Loaf
Slow Cooker Italian Chickpeas
Instant Pot Lentil Dal
Coconut Sweet Potato Curry
Vegetable Teriyaki Stir Fry
Vegetarian Stuffed Peppers
Greek Veggie Bowls
Southwestern Inspired Quinoa Bowl

Thai Quinoa Vegan Meatballs

Chickpea Shawarma Bowls

Harvest Stuffed Sweet Potatoes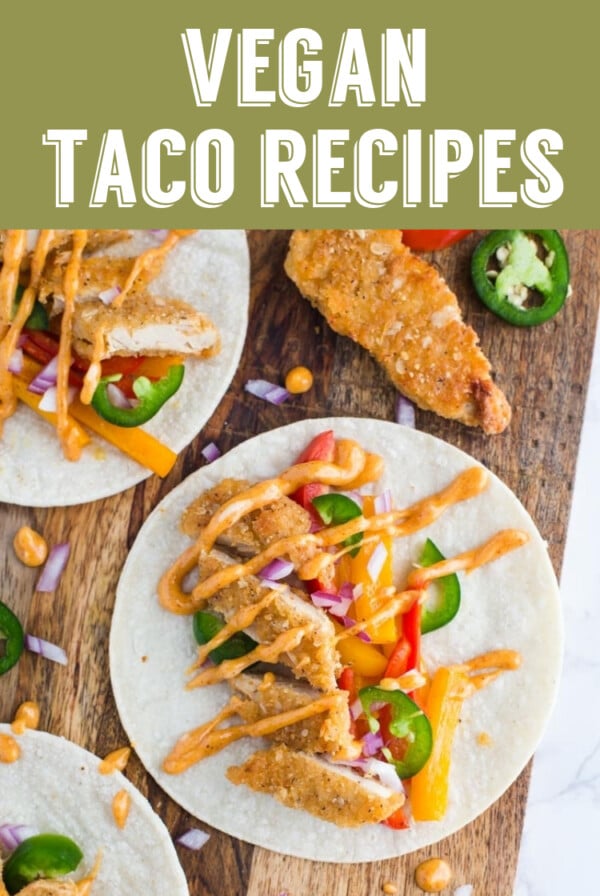 Vegan Taco Recipes
Here are some of the BEST Vegan Taco Recipes that I have ever made. SO many delicious taco recipes to choose from:
Sweet Potato Black Bean Tacos
Vegan Taco Salad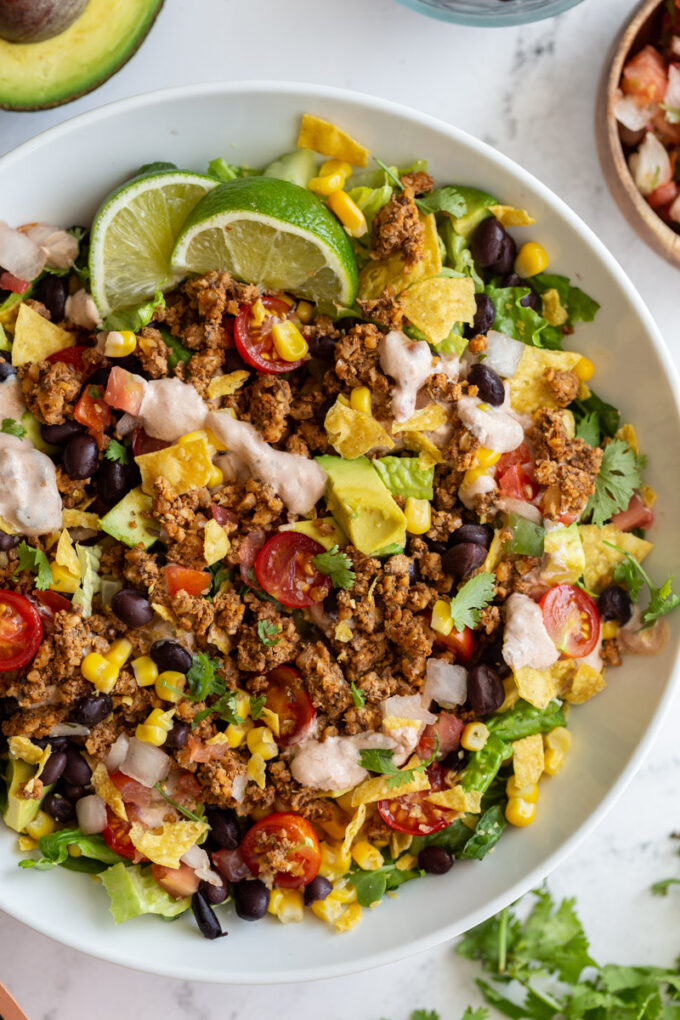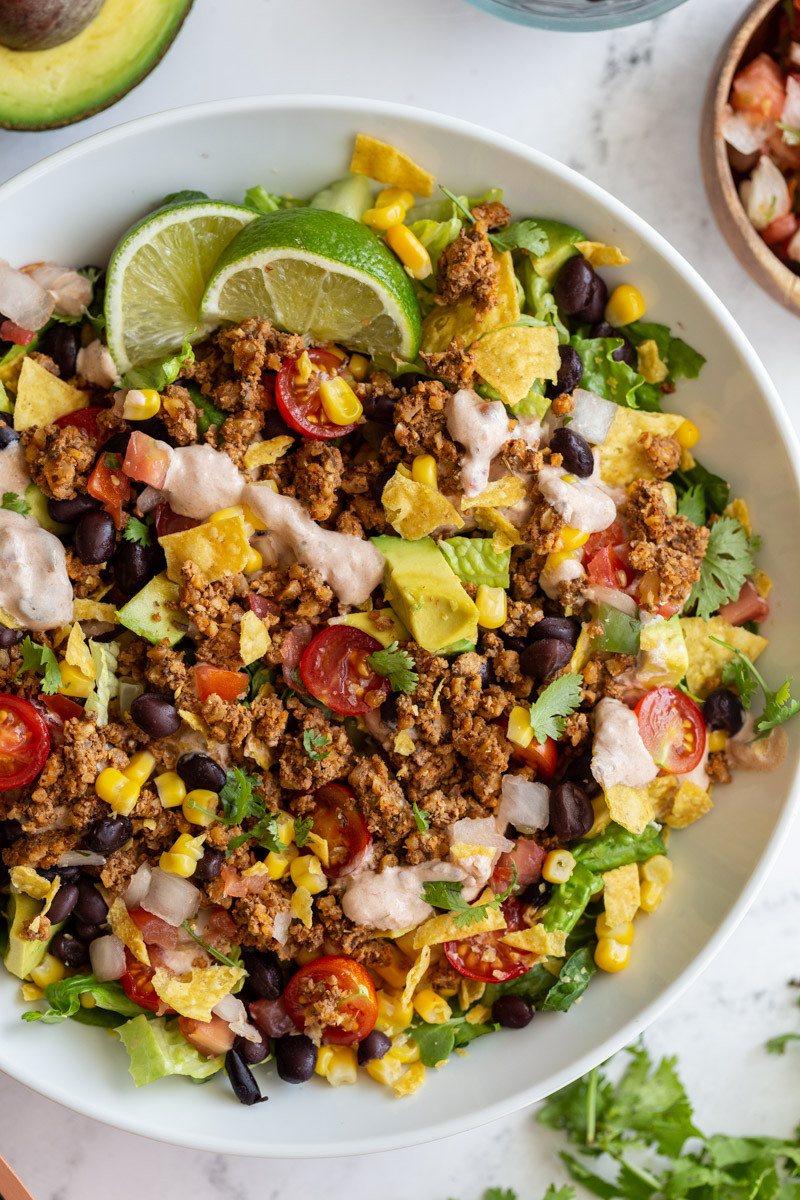 Easy Tofu Tacos
Taco Cups
Baked Avocado Tacos
Tofu Taco Meat

Crispy Chickn Tacos
Walnut Taco Meat
Tempeh Taco Meat


Vegan Sushi Rolls
Simple Vegan Sushi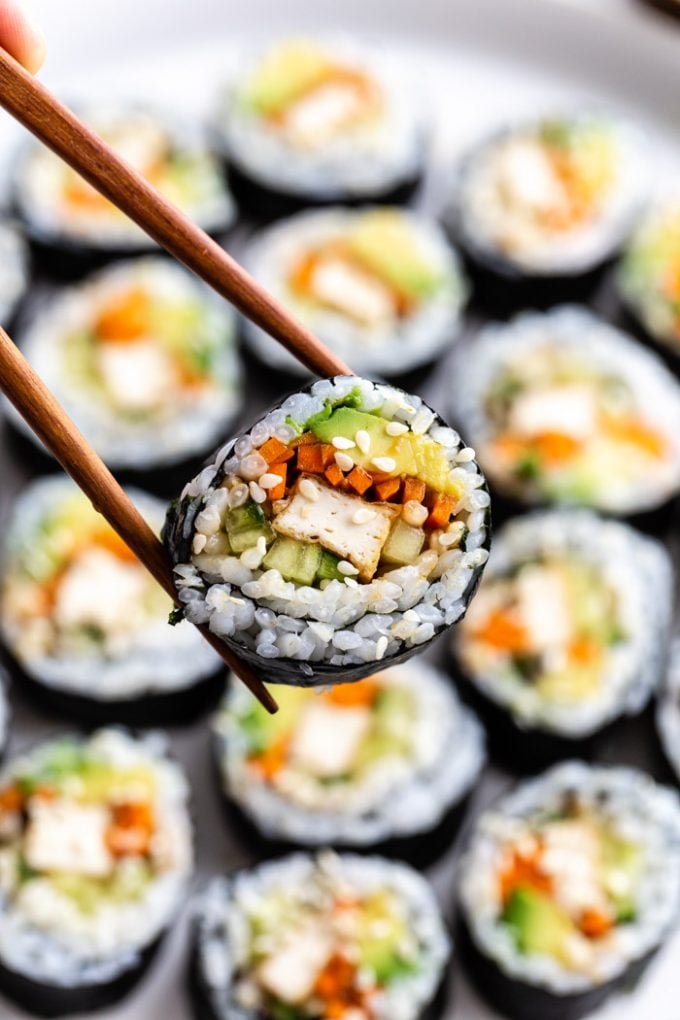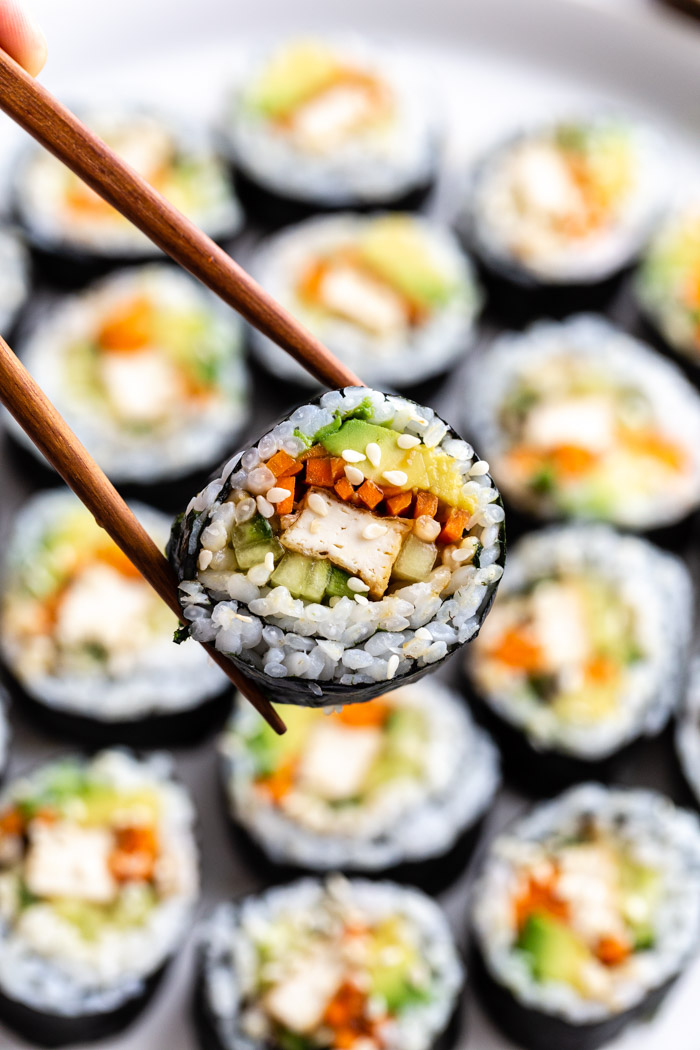 Avocado Roll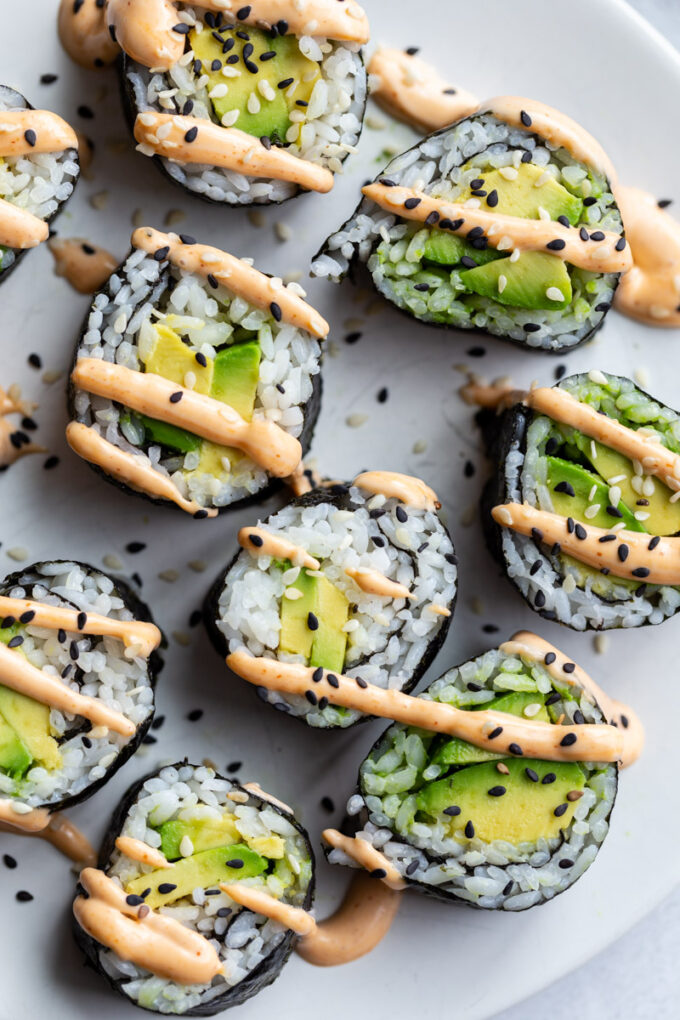 Cucumber Roll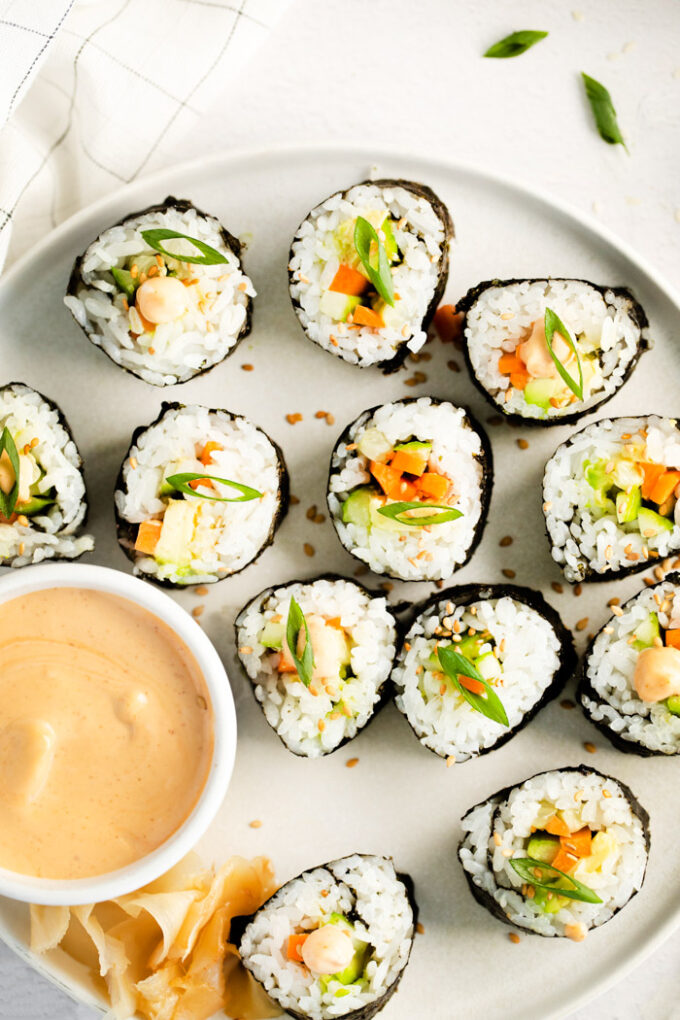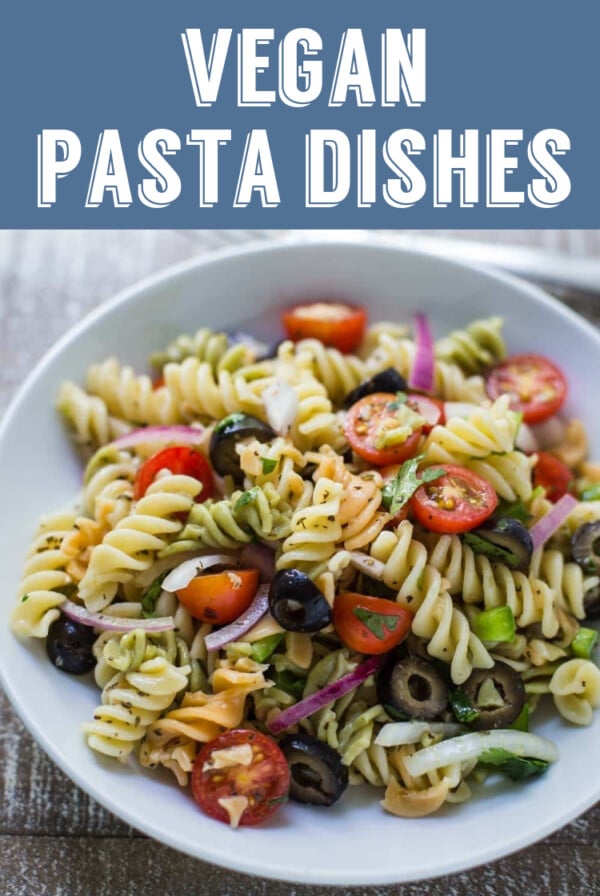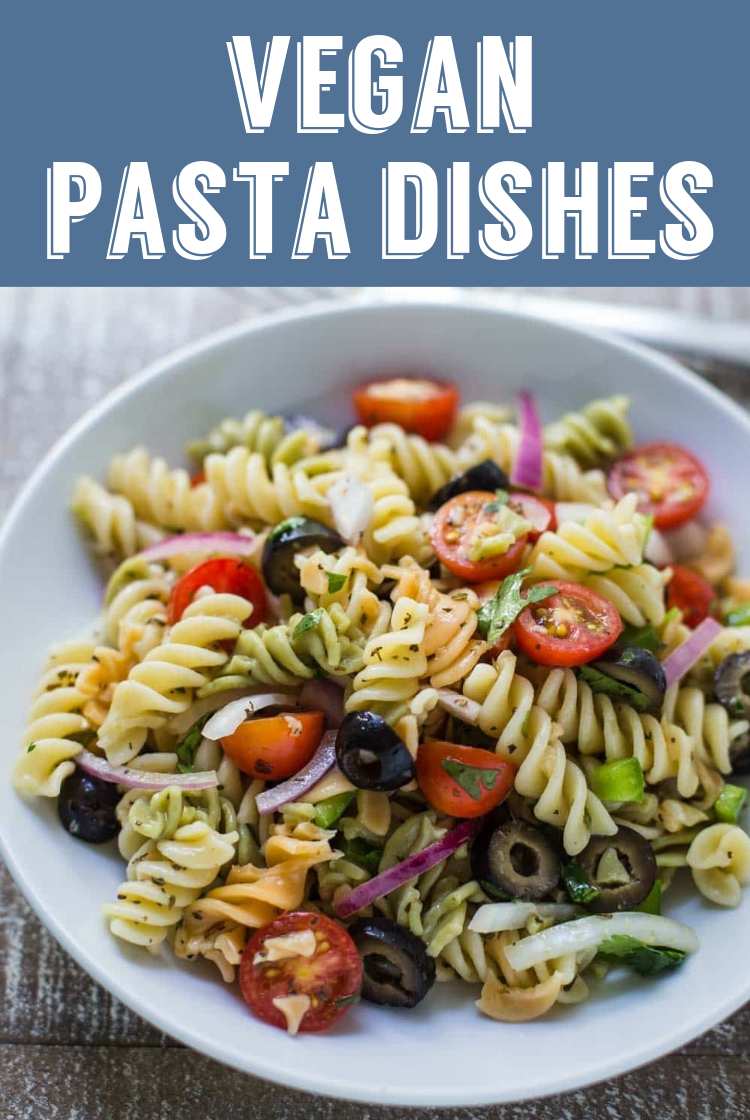 Vegan Pasta Recipes
These Vegan Pasta Dishes are easy and delicious and recipes that everyone will love (who doesn't love a nice plate of pasta!?). This is a roundup of my best pasta salad recipes as well as a few others that we make on a regular basis:
Cucumber Pasta Salad
Sheet Pan Baked Tofu & Veggies
Vegan Lasagna
Vegan Stuffed Shells
Vegan BLT Sandwich
Grilled Tofu
BBQ Jackfruit
Sesame Tempeh Stir Fry
Vegan Mac n Cheese
Vegan Macaroni Salad
Ramen Stir Fry
Smoked Tomato Pasta
Simple Tomato Pasta

Fall Inspired Pasta Salad
Vegan Lo Mein Noodles

Spinach Artichoke Pasta
Quick & Easy Pasta Salad


Pesto Pasta


Vegan Chow Mein


Lemon Broccoli Pasta Salad

One Pot Lentil Pasta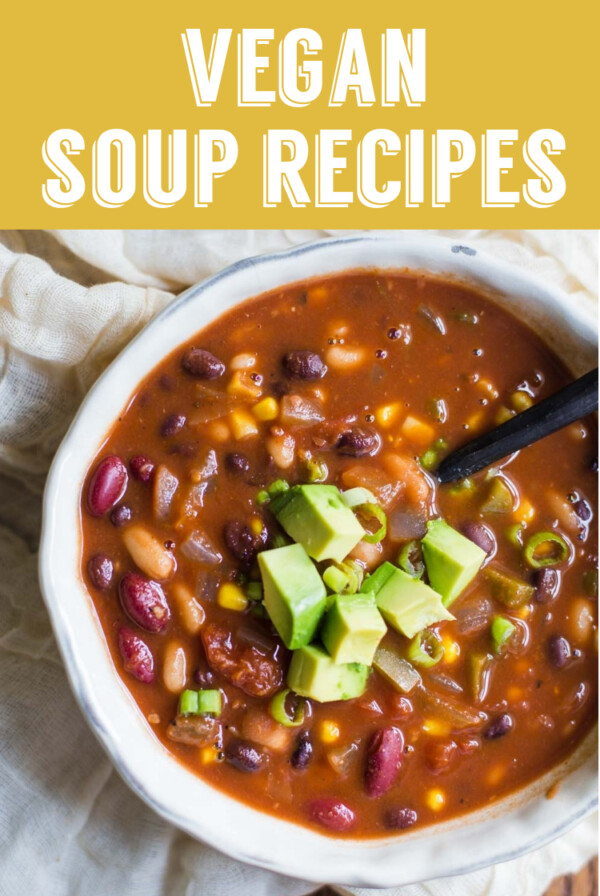 Vegan Soup Recipes
Some of the BEST Vegan Soup Recipes around! Here are a few crockpot vegan recipes as well as other great soups and vegan chilis:
Butternut Squash Soup

Tempeh Chili
Vegetarian French Onion Soup
Creamy Vegan Lentil Soup

Crockpot Vegan Chili
Chickpea Noodle Soup
Vegan Corn Chowder

Loaded Vegan Chili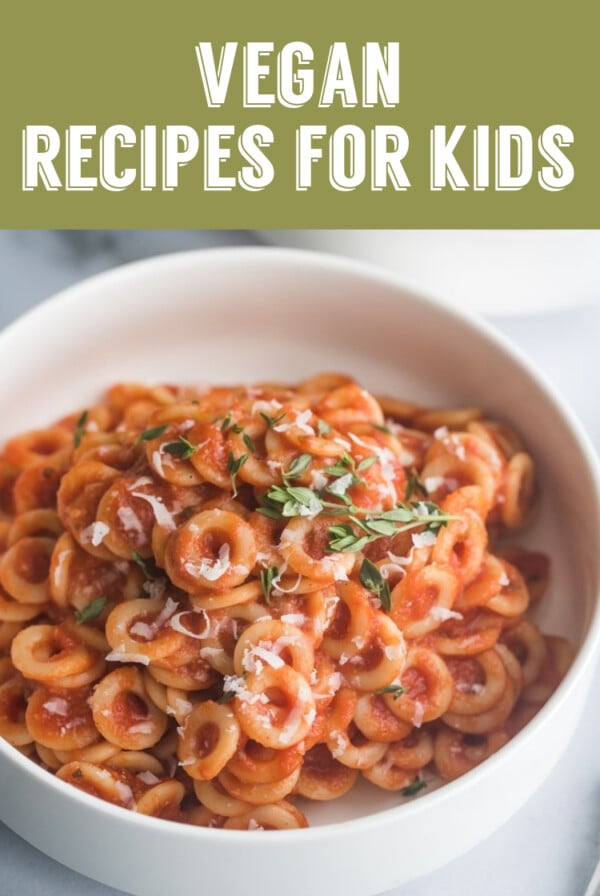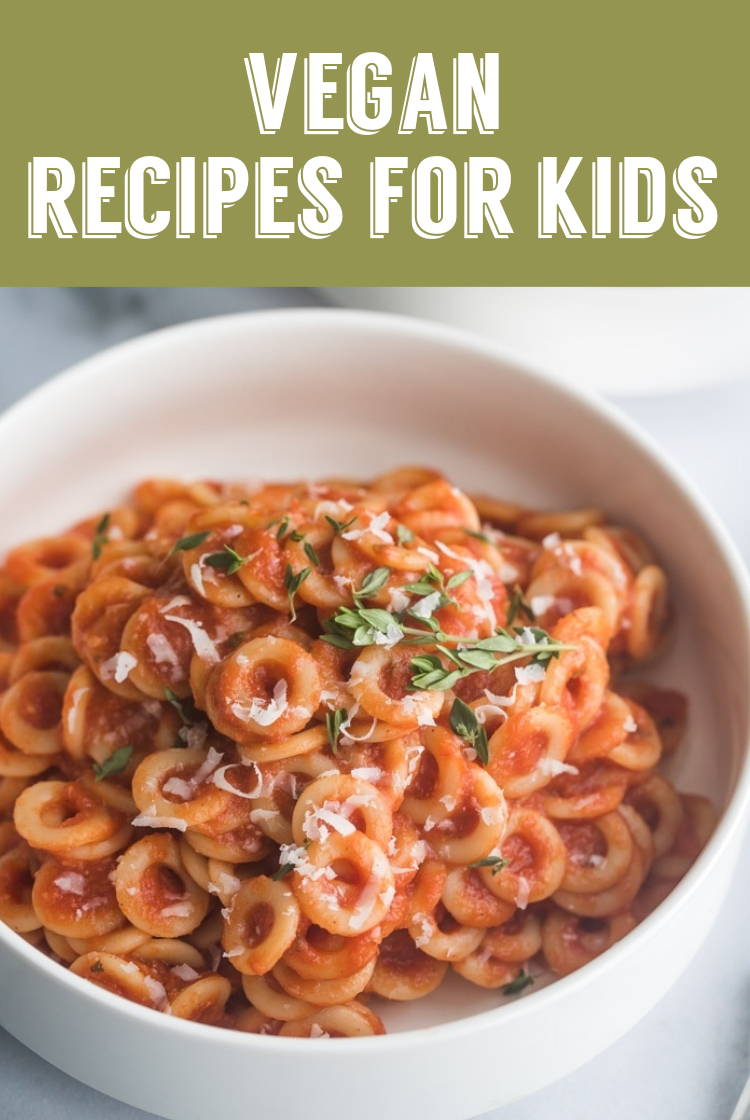 Vegan Recipes for Kids
Okay so I don't have a TON to add to this list right now but I hope to add to it as I discover new vegan friendly kid recipes! These are great to start though:
Homemade Spaghettios
Tofu Fish Sticks
Alphabet Soup
Chickpea Nuggets

Print
Description
This Tempeh Stir fry is so easy to make and PACKED with flavor! It's one of my all time favorite quick and delicious vegan dinner recipes!
---
8 ounces

 of tempeh, cubed into bite sized pieces
Sesame ginger stir fry sauce

3 tablespoons

 of olive oil

2 cups

 of green beans, ends trimmed

2 cups

 of carrots, thinly sliced (or baby carrots)
---
If you haven't already done so, make the sauce according to THIS recipe.
In a large skillet, heat 2 tablespoons of olive oil over medium heat. Add in the tempeh and cook for about 8 minutes, flipping every few minutes so that all sides are browned. Turn the heat to low and toss in 2 tablespoons of the sauce and continue to cook until the tempeh is fully coated in the sauce and it has started to caramelize a bit. Remove to a clean plate and return skillet to the heat.
Turn the heat back to medium, and add in the remaining tablespoon of olive oil and toss together the green beans and the carrots in the skillet. Cook for about 5 minutes. Add in a few tablespoons of water and place a lid on the skillet to steam the veggies a bit until tender. About another 5 minutes. Remove the lid and take out any excess water.
Pour in the remaining sauce as well as the tempeh. Toss to coat everything and continue to cook until sauce thickens and everything is nicely coated in the sauce. Cook about 2-3 more minutes.
Serve over rice or quinoa and ENJOY!! Also great on its own!
Notes
This can also be made with firm/ extra firm tofu! Simply press it and cut into cubes and use in place of the tempeh.
Category:

dinner

Method:

stovetop

Cuisine:

american
Keywords: vegan dinner idea, vegan dinner recipe, vegan dinners